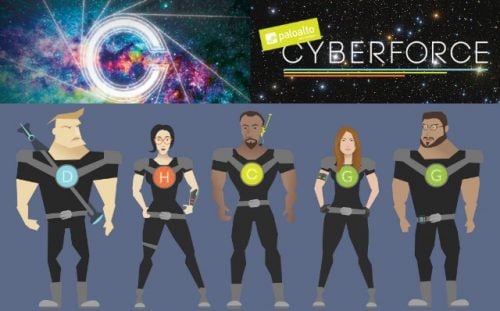 Hitting 1,000 is a major achievement in nearly every practice. It might be hitting 1,000 employees for a thriving startup company, hitting 1,000 followers on the hippest social media app, hitting 1,000 subscribers on YouTube, or hitting over 1,000 receiving yards a la Robert Woods of the L.A. Rams (ahem, NFC Champions and Super Bowl 2019 competitor).
All of these accomplishments represent a cause for celebration. We are incredibly proud that our very own CYBERFORCE program recently reached a significant milestone by hitting 1,000 members. Actually, as of the date of this blog post, membership has exceeded 1,100 – and we're thrilled.
CYBERFORCE: A Powerful Ally
If you haven't already heard about CYBERFORCE, here's a quick overview. It is our very own partner technical recognition program, featuring an elite group of highly trained, self-sufficient engineers who are instrumental in protecting our digital way of life by preventing successful cyberattacks. The program recognizes the best of the best, proven partner engineers who are self-sufficient rock stars and as passionate about Palo Alto Networks as our own teammates. They are sought out and trusted by our mutual customers, and they stake their personal and professional reputations on what they believe to be the very best: Palo Alto Networks Security Operating Platform. In a nutshell, CYBERFORCE is a powerful ally, keeping our mutual customers secure from cyberattacks.
CYBERFORCE Awakens
Since its 2017 inception, CYBERFORCE has grown quickly and expansively, which validates the value that the program delivers to our members. In less than a two-year period, 1,100 partner engineers from 500 unique partner companies – representing 76 countries – have been recognized in this exclusive program. Last year, we introduced the Guardian level, a professional services recognition for cybersecurity consultants who are certified to migrate customers to the Palo Alto Networks Security Operating Platform. Guardians are trusted for delivering transformational services and renowned for exceptional customer satisfaction. Approximately 20% of members have achieved elite levels of recognition, which include Commander, Guardian (post-sales) and Hero.
Transform into the CYBERFORCE
CYBERFORCE is an exclusive program, and membership is earned by excelling in three key areas: capabilities (technical certifications), technical credibility (completing specific activities to earn points, called XPs within the program) and performance (winning business). Becoming a CYBERFORCE member takes focused effort, and partner engineers who stay on the path to demonstrate more expertise can achieve different levels: Defender, Commander, Hero and Guardian.
CYBERFORCE members enjoy numerous benefits from Palo Alto Networks, such as early access to training, exam vouchers, and invitations to special events and activities. More importantly, they greatly value the recognition they receive. Chris Yates, a CYBERFORCE Hero, says, "CYBERFORCE gives us tremendous credibility that recognizes we've gone beyond the standard sales engineer certification/accreditation and that we're working at a different engagement level." Read the CYBERFORCE profile blog featuring Chris Yates.
Learn more about CYBERFORCE here.