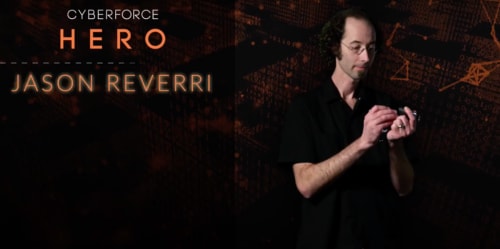 This is the third in a series of blogs featuring a Palo Alto Networks CYBERFORCE engineer and the business challenges they tackle. CYBERFORCE recognizes the best-of-the-best from the NextWave Partner Community; proven partner engineers who put the customer first, are trusted for their security expertise, and focus on preventing successful cyberattacks.
Meet Jason Reverri, CYBERFORCE Hero #014
Jason of CompuNet, a self-described "cryptology enthusiast," snacks on codes, ciphers and encryptions for fun in his spare time.
Those problem-solving skills come in handy as he helps customers tackle a variety of security challenges – from dealing with cyberthreats to budget and staffing concerns that keep business leaders up at night.
Building Bridges and Relationships
Jason offers customers additional value in bridging organizational silos. "You're working with a bunch of different groups within the organization," he says. "I can bridge those gaps, say, between the security group and the networking group."
Relationship-building is a big part of what Jason does, which starts well before a deal is closed.
"The CYBERFORCE program sharpens my focus on what I should do from a pre-sales perspective with the customers," he says. Previously, we had been reliant on Palo Alto Networks internal SEs for those, but now we're able to execute them on our own."
Relying on a Great Partnership
Jason calls out the Palo Alto Networks SE team for helping him keep current during the nearly five years he has partnered with us.
"There are some very exciting things happening in the industry and at Palo Alto Networks with their breakthroughs in security, automation, and analytics," he says. This keeps him confident in sharing the newest cybersecurity information with his customers and helping them implement the latest technology and techniques.
For Jason and his Palo Alto Networks SE peers, trust is at the heart of a great partnership.
"We can go into a situation with a customer and be lockstep in our messaging," he says. "There's a lot of trust there, and it's a two-way street. Customers really pick up on that."
A Community of Engineers
If you are a Palo Alto Networks partner engineer, Jason encourages you to get involved in the CYBERFORCE program.  Learn more about joining CYBERFORCE.
"Don't be intimidated by the people that are already established within this group," he says. "Join, be part of the group, and contribute. The community is made better by everybody being part of it."
Wonder what else drives this CYBERFORCE Hero? Check out Jason's distinguished stats, certs, skills and fun facts in his Hero video.