Our customers are excited about the cloud for the agility, flexibility and scalability it provides. But, when it comes to keeping their cloud deployments secure, they often tell us they find it hard to combine superior security and easy management with the ability to secure applications consistently across hybrid and multicloud environments. That's why we are excited to launch Cloud NGFW for Azure to strengthen security for applications running on Microsoft Azure while streamlining network security operations.
This fully managed next-generation firewall, available for customers through Microsoft Azure Native ISV Services, is built to better protect cloud-native and migrated applications with Palo Alto Networks AI and ML-powered next-generation firewall technology. Every day this technology blocks nearly 5 billion events, analyzes 3.5 billion new and unique events, and detects over 275,000 new and unique attacks that weren't there the day before.
The added strength of Panorama integration makes Cloud NGFW for Azure even more powerful. This enables customers to maintain centralized threat visibility and management, so they can extend control of network security from on-prem to Azure. Visit the Azure Marketplace to start a free 30-day trial of Cloud NGFW for Azure.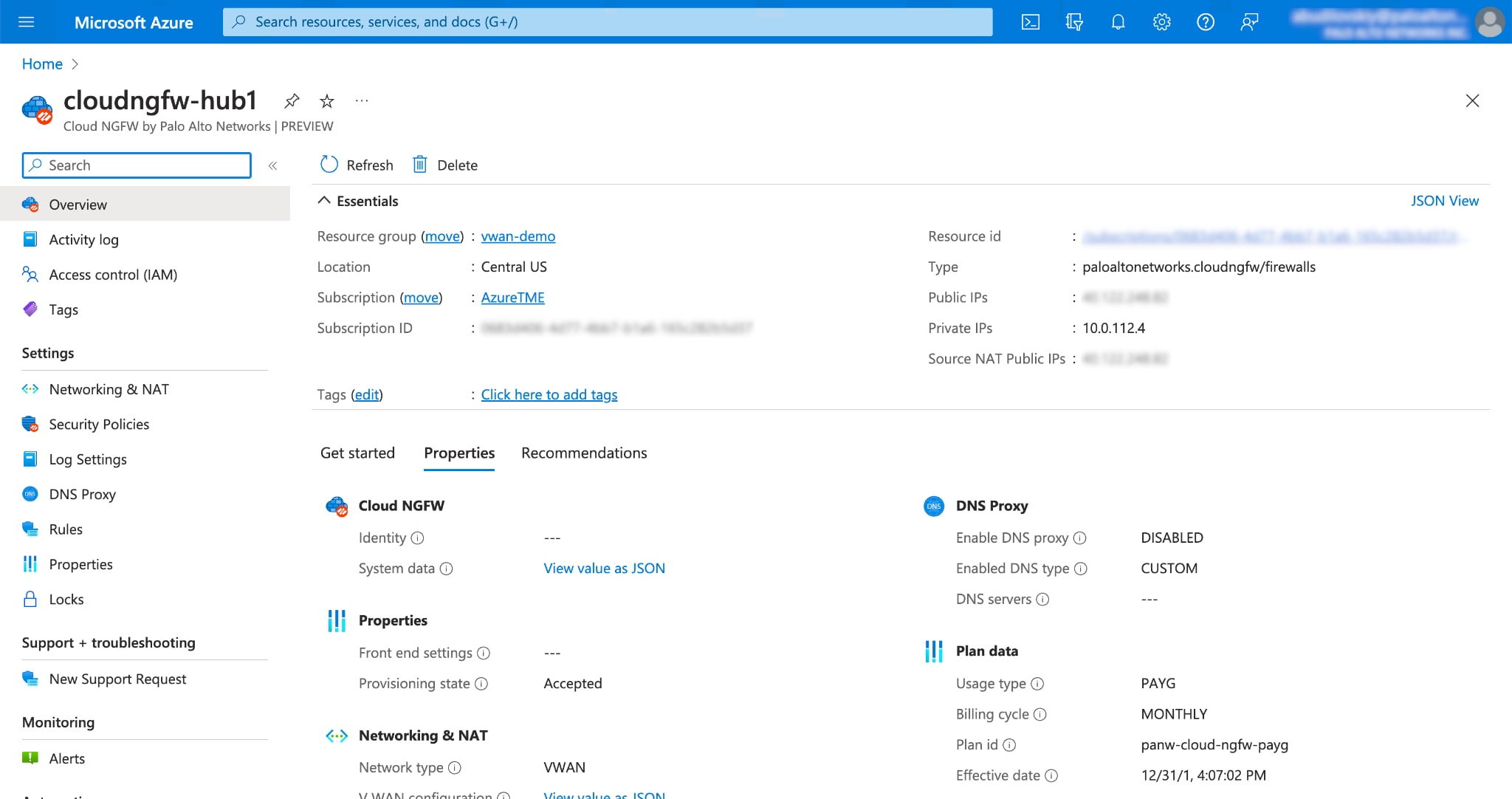 Speed Deployment and Eliminate Infrastructure Burdens
Cloud NGFW for Azure is a fully managed service that delivers its powerful capabilities without requiring customers to manage physical infrastructure or even virtual network appliances. Customers can deploy this Azure native ISV service in minutes, directly from the Azure Portal. Then, make any modifications using the same Azure tools and interface they would with any other Azure service. Our managed firewall service even integrates with Azure Virtual WAN deployments, so customers can protect traffic across their entire networks. Behind the scenes, Palo Alto Networks takes care of scaling, resilience and software upgrades. With Cloud NGFW for Azure, customers can focus their time on security instead of managing infrastructure.
Easily Extend Security from On Prem to Azure with Panorama
As customers move to hybrid and multicloud architectures, consistent network security is increasingly critical. Customers are trying to get the advantages of the agility of the cloud while maintaining the same high bar of network security they have built on prem. In addition, many customers have spent years building up their security posture on prem and understandably don't want to start all over again with policies and processes in the cloud.
Cloud NGFW for Azure is integrated with Panorama to dramatically simplify network security management. With Panorama, customers can centrally manage all of their next-generation firewalls across all environments. Customers get unified visibility into network traffic, threat activity and blocked activity. It is easy to apply consistent policies and employ the same Palo Alto Networks, best-in-class, security capabilities for all apps, whether they are running on-premises or in the cloud.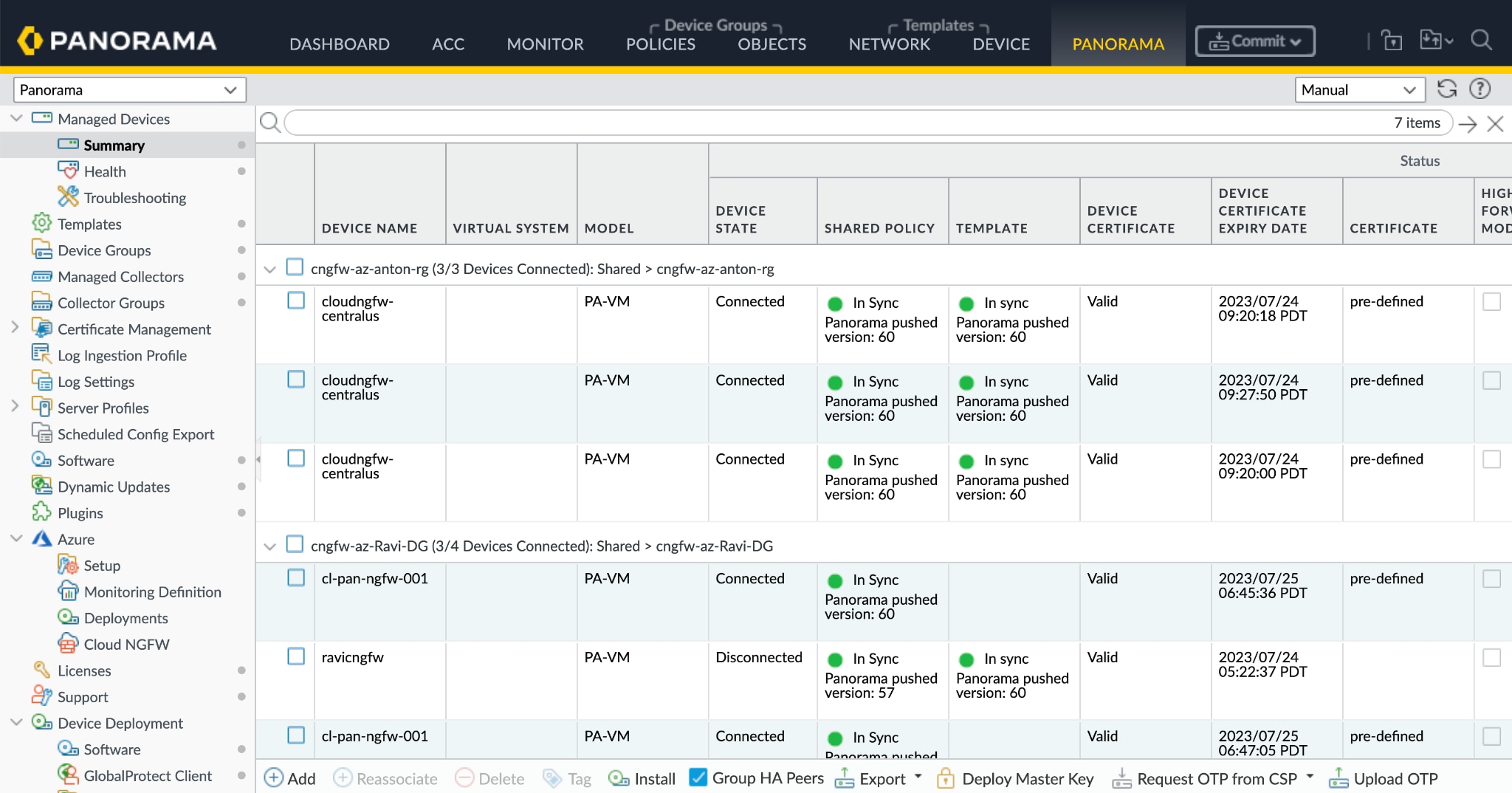 For customers who use Panorama to manage their on-premises next-generation firewalls, Cloud NGFW for Azure is now the easiest way to use the same workflows and seamlessly extend existing policies to Azure. No need to learn new tools or create new processes.
Tap into Palo Alto Networks Best-in-Class Security Powered by AI and ML
Cloud NGFW for Azure incorporates Palo Alto Networks best-in-class PAN-OS and Cloud-Delivered Security Services to prevent the most sophisticated threats. This makes it easy to adopt Zero Trust across the network security stack with integrated, cloud-based security that lets customers perfectly balance security and performance.
For example, our App-ID capability uses patented Layer 7 traffic classification technology to control traffic, allowing only sanctioned applications to traverse the network, which immensely reduces the surface area of attack. Then there's Advanced Threat Protection, which stops unknown exploits, malware, spyware and command and control (C2) while utilizing inline deep learning to halt zero-day attacks in real time.
Even more capabilities come with Cloud NGFW for Azure. Advanced URL Filtering has been designed to stop malicious URLs. WildFire combines dynamic, static and machine learning analysis techniques to detect and prevent file-based threats. Inline prevention stops "patient zero" without affecting productivity. And, integration with Azure Key Vault enables Cloud NGFW for Azure to detect and stop threats in all traffic, including encrypted traffic. What's more, DNS Security prevents the most advanced DNS-layer attacks from exploiting customer networks and stealing their data.
Whether migrating legacy applications or building cloud-native ones on Azure, fully protecting those applications is crucial. Cloud NGFW for Azure offers the powerful machine learning technology and advanced security capabilities that customers need to defend against a quickly changing threat landscape. At the same time, by providing a fully managed, Azure-native ISV service with consistent Palo Alto Networks best-in-class security, Cloud NGFW for Azure lets customers focus on innovation that grows and delivers business value from applications instead of maintaining underlying infrastructure. This is all done while extending security management seamlessly from on prem to Azure.
At Palo Networks we say our mission is about protecting our digital way of life. It's increasingly clear Azure plays a big part in that way of life. We are proud to partner with Microsoft to help make Azure a secure place to innovate. Learn more about Cloud NGFW for Azure and create an account with Azure Marketplace to begin your free 30-day trial.