Ease of use should just get easier as time goes by. That's why we introduced Cloud NGFW for AWS earlier this year: Managed by Palo Alto Networks and easily procured in AWS Marketplace, the service has been designed to deliver our best-in-class security protections – with AWS simplicity and scale.
And now we've made it even easier to figure out the security you need in AWS with this interactive Cloud NGFW for AWS pricing estimator. Use this simple tool to:
Decide upon number of NGFW resources
Select number of availability zones needed
Support options required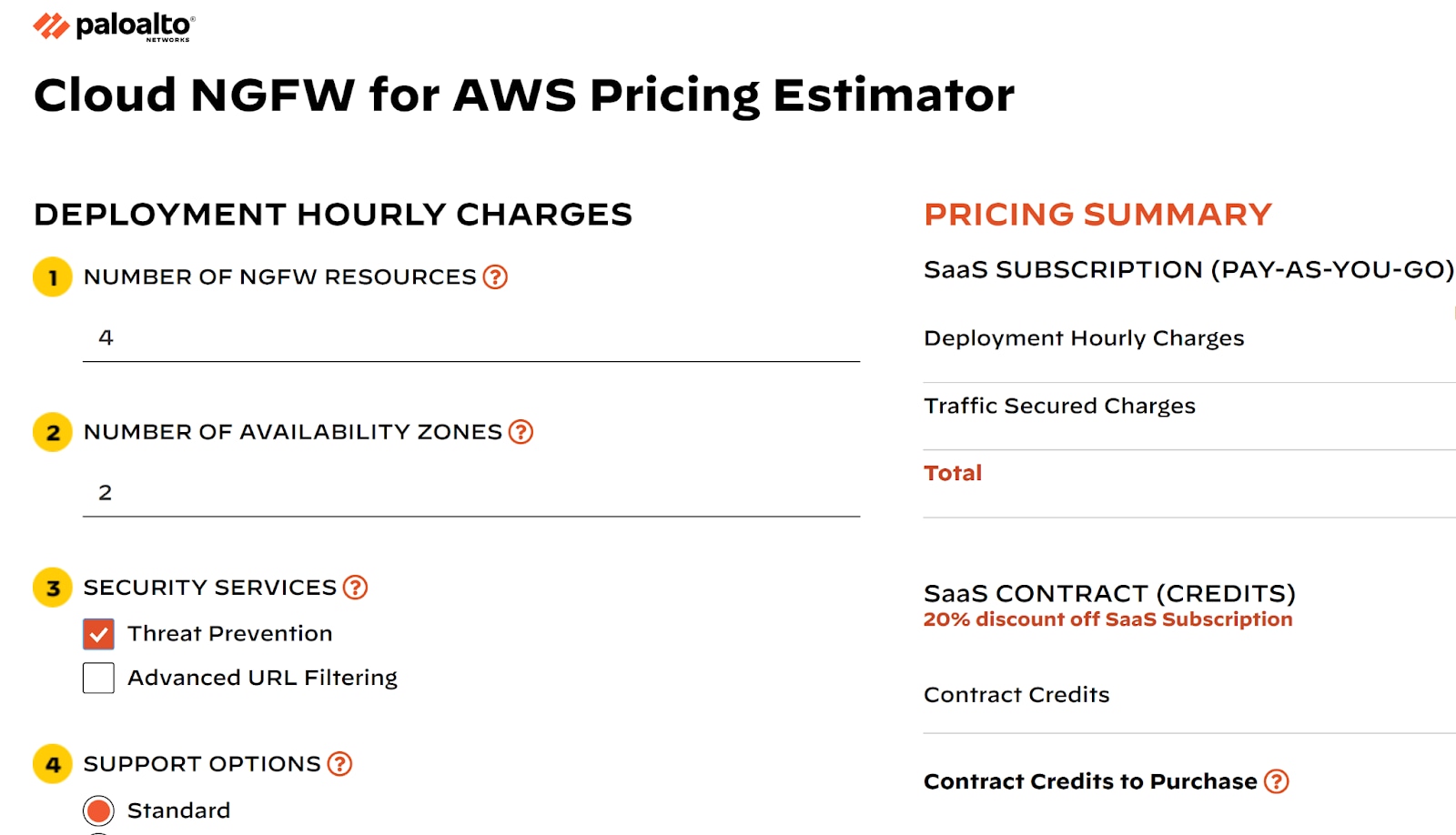 You will also discover your options for cloud-delivered security services accompanying Cloud NGFW. The tool helps you plan for using:
Threat Prevention, which automatically blocks known malware, vulnerability exploits and command-and-control attacks.
Advanced URL Filtering, which helps ensure safe access to the internet with the industry's first real-time prevention of known and unknown web-based threats, preventing 40% more threats than traditional web filtering databases.
Explore Procurement Plan Flexibility
What's more, the pricing estimator tool allows you to figure out your procurement options with a pay-as-you-go approach or as a SaaS Contract. What this means is that customers can opt for the firewall service on one, two or three-year terms. Customers can leverage these contracts for more benefits:
Receive a discount off the pay-as-you-go price
Apply the contract purchase towards AWS spend commitments
Gain flexibility for bursts in unpredictable usage by averaging usage over the month and billing for any overages on a pay-as-you-go basis
Prevent service interruption at the expiration of the contract by automatically reverting to monthly pay-as-you-go
Streamline accounts receivable activities by leveraging AWS Consolidated Billing
Take Advantage of the Free Trial
Cloud NGFW for AWS is available in 18 AWS regions, and you can try it with a no obligation free trial. And while security is serious business, we're encouraging our customers to play around with this elegantly simple tool. Check out the Cloud NGFW for AWS pricing estimator to help save time, money, as you plan for best-in-class purpose-built for AWS.