At Palo Alto Networks, we have a passion for innovation! It must show because thousands of customers have chosen our security platforms to protect their enterprise, government, and service provider networks from cyber threats.
Just as our engineering team strives to stay ahead of the curve by innovating cutting-edge security products, our technical documentation team strives to improve the documentation experience. To that end, we are thrilled to announce the following new features on our Technical Documentation site. The features are summarized below, and in the following video:
Web-Ready Content
All of our software documentation is now available in HTML webpages. These webpages have been restructured to provide concise, consumable topics of information.
Content Portability
Using our on-demand PDF generation tool, you can create a PDF of any documentation web topic. The resulting self-contained PDF can be downloaded and saved for offline viewing. To use this feature, click this button from any of our documentation web pages:

On the left-hand side of each book, a menu displays all top level categories. As you navigate through the book, the breadcrumb at the top of the page updates to reflect your position in the documentation hierarchy. To step through the documentation easily, use the breadcrumbs or the PREVIOUS and NEXT buttons at the top of the page.
Documentation Search
You can now use our Document Search to search across the entire set of documentation. The search box appears at the top of all documentation pages and is also available here.
But if that doesn't get you the information you need, you can drill down even further by OS Version, Product Category, Feature, Feature Category, and Information Type using the faceted search available on the left-navigation pane.
Say you want to find out how to configure User-ID features. You can search for User-ID and browse through the results or you can drill down by task to see all the related tasks for User-ID. You will notice that the search facets display at the top of the results page as you select them. You can remove them as needed.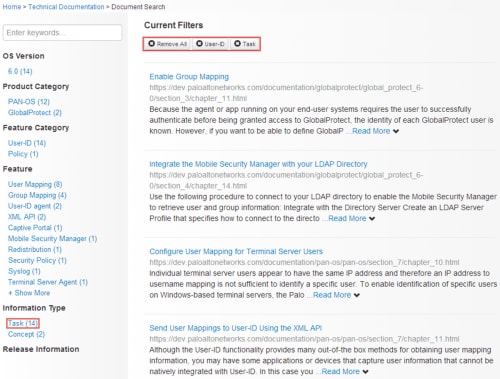 Note: The search returns HTML results only, but you can create a PDF of the content using the on-demand PDF generation feature described above.
----------------------------------------------------------------
We hope our new Technical Documentation site enables you to set up your security devices with ease and confidence. Let us know what you think by leaving a comment below or by emailing us at documentation@paloaltonetworks.com.
*RTFM: Read the fine manual 😉