Sit back and relax while we bring you this week's channel scoop.
Traps Competitive Sales Insight Webinar: Register today to learn how we are going to disrupt the endpoint market by beating legacy anti-virus endpoint vendors with Traps advanced endpoint protection.
New PAN-OS 8.0 Training: At our Global SE Summit, we did 17 PAN-OS 8.0 deep dive sessions. We recorded these sessions and are now making them available via the Partner Learning Center. These sessions scored very well and are the exact same sessions we put the Palo Alto Network SEs through.

CYBERFORCE: As part of our "thinking beyond the point" channel strategy, we wanted to recognize individuals who are strengthening their platform expertise and who are helping their companies become next-generation security innovators. Our inaugural CYBERFORCE class has 200+ members who are responsible for helping generate more than $4M in revenue over the past 12-months. To learn more, check out our dedicated Partner Portal page, where you will find this CYBERFORCE inforgraphic:

 

Sell 10 Get 1 Free: Ignite '17 Security Conference is almost here. Have questions? Check out our partner FAQ. Never been to an Ignite? This year it is June 12-15, in Vancouver, BC. Here's a sneak peek video:

Social Selling: Did you know that 79 percent of salespeople that use social media outsell their peers? Let us help you jump start your social media experience with SocialWave, our free, social media syndication tool.
*To access content on the Partner Portal you must be a Palo Alto Networks NextWave channel partner and have a valid user name and password. Email NextWave@paloaltonetworks.com to request Partner Portal access.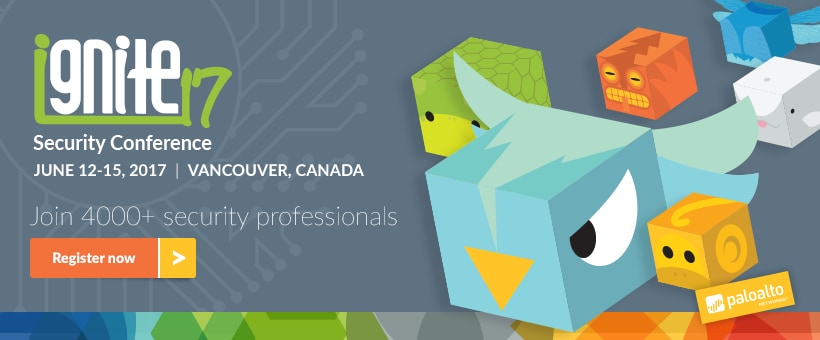 Ignite '17 Security Conference: Vancouver, BC June 12–15, 2017
Ignite '17 Security Conference is a live, four-day conference designed for today's security professionals. Hear from innovators and experts, gain real-world skills through hands-on sessions and interactive workshops, and find out how breach prevention is changing the security industry. Visit the Ignite website for more information on tracks, workshops and marquee sessions.