Sit back and relax while we bring you this week's channel scoop.
Q3 NextWave Huddle Recap: If you missed the webinar this blog post is the perfect summary and dives into Ron Myers' 3 Keys for Q3: Embrace Change; Seek New Opportunities and Think Beyond the Point.
Q3 NextWave Traps Specialized Partner Webinar: The replay and presentation can be found on the Partner Portal.
First Traps Specialized Compliance Check, August 2017: Please do not wait to act. You have 5-months to complete the Traps Specialization requirements, including our new PSE: Endpoint-Professional Exam and our recently updated ASE: Endpoint Associate training (capturing Traps v3.4). Partners who fail to meet the Traps Specialized requirements by August will lose their Traps Specialization status.
Sales Insight Webinar: Positioning the Public Cloud Opportunity: In this session, you will learn how and why to position Palo Alto Networks relative to the Public Cloud. Register today for one of two sessions:

April 25 at 8:00 AM PST / 3:00PM BST / 4:00 PM CEST / 6:00 PM PST
April 26 at 9:00 AM SGT / 10:00 AM JST

Protect Yourself from Antivirus Video: this is the last blog post in March so wanted to end on a humorous yet informative note on the dangers of using legacy antivirus endpoint technology. Enjoy!
*To access content on the Partner Portal you must be a Palo Alto Networks NextWave channel partner and have a valid user name and password. Email NextWave@paloaltonetworks.com to request Partner Portal access.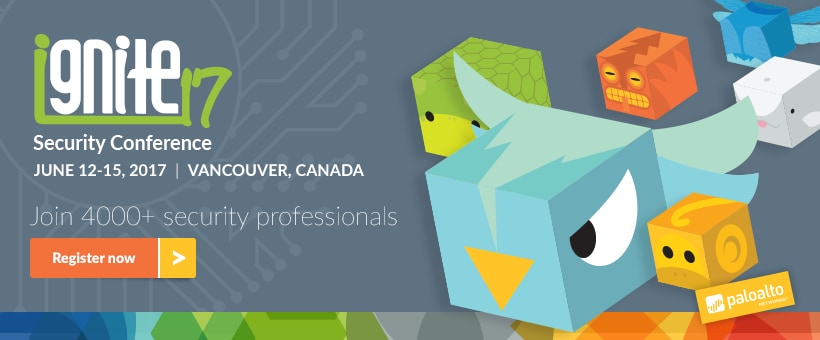 Ignite '17 Security Conference: Vancouver, BC June 12–15, 2017
Ignite '17 Security Conference is a live, four-day conference designed for today's security professionals. Hear from innovators and experts, gain real-world skills through hands-on sessions and interactive workshops, and find out how breach prevention is changing the security industry. Visit the Ignite website for more information on tracks, workshops and marquee sessions.