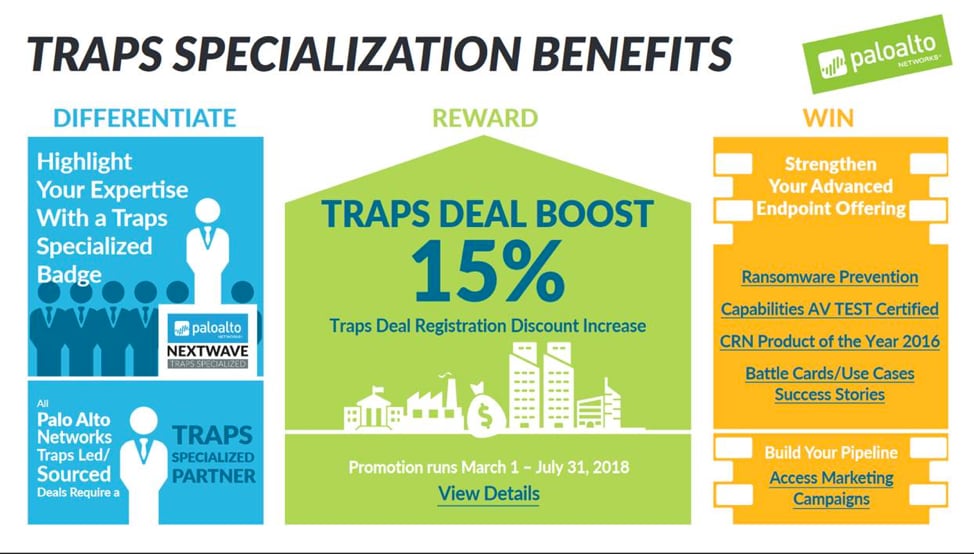 With the launch of Traps 5.0, last month, we continued an exciting journey to disrupt the endpoint market. Combine that with NSS Labs, Advanced endpoint Protection (AEP) test results released this week where Traps earned the coveted "recommended" status and it got me thinking. Has there been a better time to become a Palo Alto Networks Traps Specialized partner? I don't think so and here are my Top 5 reasons why:
1. Innovation and Validation
Organizations need a new approach to endpoint protection to replace their existing AV, and Traps 5.0 offers the only true multi-method prevention capability that pre-emptively blocks malware and exploits, both known and unknown, before they breach an endpoint. In the 2018 AEP test, NSS Labs configured 20 endpoint products, all from different vendors, to mimic a standard enterprise environment by applying typical applications, such as exclusion policies and tuning requirements.
NSS Labs gave Traps the highest rating they offer, "Recommended", and a 97.7 security effectiveness score amongst all other endpoint vendors. Additionally in the test, Traps had a 100% block rate for exploits and evasions, zero false positives and was judged to have the lowest total cost of ownership among all 20 vendors tested.
2. Profitability Boost
Strengthen your endpoint profitability with the new Traps Deal Boost Promotion.  
Exclusive to Traps Specialized partners, they can earn more discounts when they secure new endpoint opportunities. We developed the Traps Deal Boost promotion to strengthen profitability on Traps deal registered opportunities with an additional front-end discount on new – land and expand – Traps registered deals.
The Traps Deal Boost promotion is also a direct action from our 2018 Partner Satisfaction Survey. You told us we need to improve our partner promotions, and so we started with a promotion targeting one of our largest global growth opportunities.
3. The Palo Alto Networks Security Operating Platform
Traps 5.0 provides a unique opportunity for you to expand your business with new and existing customers by offering a security platform that helps millions of companies migrate away from legacy point-product offerings. Palo Alto Networks remains committed to our mission of building a partner ecosystem of experts at enhancing the platform to prevent successful cyberattacks. Together we have an unprecedented opportunity to deliver a different approach that goes beyond best-of-breed point products and delivers an automated Security Operating Platform that just works across network, cloud and endpoint.
4. Market Transitioning to the Cloud
Our Traps 5.0 release represents a complete overhaul of the Traps infrastructure with a shift to a cloud-delivered management service. This shift to the cloud makes deployment and day-to- day management much easier for new and existing customers. With the Traps management service in the cloud, we see the first integration with the Application Framework and Logging Service. The Traps management service will use the Logging Service to store all event and incident data capture by Traps, allowing a clean handoff to AutoFocus, Panorama and Magnifier for further investigation and incident response, laying the foundation for an endpoint detection and response, or EDR, offering.
5. $5.2B Market Opportunity by 2020*
Today, legacy antivirus, or AV, does not provide protection against all known and, most importantly, unknown malware and exploits. We still find conventional AV on nearly every endpoint and server globally because it checks all the boxes for regulatory, governance and compliance audits. This represents a huge opportunity for our partners to differentiate themselves and their business with our Traps Specialization.
Join us on our quest to disrupt the endpoint market by becoming Traps Specialized. 
*IDC, Worldwide Enterprise Endpoint Security 2016–2020 Forecast, October 2016