Let's face it, the way many of us work has changed permanently. The tried and true method of commuting to the office to get access to all our applications and services is a thing of the past. Today, hybrid work is the new normal, with employees having greater freedom to work from anywhere - home offices, branch offices, corporate offices and all points in between - while maintaining access to the apps and services they demand to ensure productivity.
The shift to a hybrid workforce has pushed traditional networking and security infrastructures to their breaking point. Now, employees are accessing more data and applications that are located anywhere but the corporate offices. Legacy architectures that backhaul and hair-pin traffic through corporate data centers no longer work in today's world. As such, organizations are looking for innovative ways of modernizing their access infrastructure to accommodate for the needs of today's hybrid workforces. And leading businesses around the world are modernizing their infrastructure with Prisma Access.
Prisma Access consolidates more point-products into a single converged cloud-delivered security platform than any competing solution, transforming network security to allow organizations to securely enable their hybrid workforces. Unlike competing platforms, only Prisma Access protects all application traffic with complete, best-in-class security, seamlessly extending consistent protections everywhere while ensuring an exceptional user experience. As you evaluate solutions for modernizing your infrastructure, here are five ways Prisma Access can help establish a secure hybrid workforce.
Streamlined and simplified cloud-management

. The old clunky way we used to manage our security infrastructure is a thing of the past with

Prisma Access Cloud Management

.





Modern organizations supporting massive hybrid workforces want a cloud-delivered management experience with simple and intuitive workflows that also provides visibility into all their users, applications and threats. With Prisma Access, customers can:
Realize a best-in-class unified management experience that streamlines configuration, security posture, reporting and digital experience monitoring.

Increase operational efficiencies with simplified workflows and ready to use out-of-the-box configurations based on security best practices, making day-to-day management effortless while reducing risk.

Gain complete visibility into all applications, users, and threats, all with actionable insights to improve security effectiveness.
2. ML-powered security. As we look to the future of cybersecurity, machine learning (ML) will play a critical role. Fortunately, that future is now.

Prisma Access is the first cloud-delivered services platform to bring ML-powered security capabilities to an already impressive arsenal of protections – including Firewall-as-a-Service (FWaaS), Secure Web Gateway (SWG), Cloud Access Security Broker (CASB), Zero Trust Network Access (ZTNA) and more. Prisma Access leverages ML for proactive real-time and inline zero-day protection, preventing up to 95% of unknown file and web-based threats instantly.

The ML-powered security capabilities are tuned to prevent other unknown threats in near real-time using zero-delay signature updates, while also extending visibility and security to all devices. This includes never-before-seen IoT devices without requiring additional sensors. What's more, Prisma Access ML-powered security automates policy recommendations that save time and reduce the chance of human error.
3. Not all proxies are created equally, or securely. Prisma Access secures all application traffic against all threats while providing unparalleled flexibility for accommodating the connectivity needs of today's hybrid workforce, including supporting an explicit proxy connection method. Since the world is still a mix of cloud and premises-based applications and services, securing all traffic – not just web traffic – is more important than ever.
With the explicit proxy functionality of Prisma Access, you can now easily migrate from legacy proxy-based solutions to a complete cloud-delivered security platform to protect all your apps, ports and protocols, without the need for costly and cumbersome network architectural changes.
4. An extensible, and sensible, platform. Adopting and integrating multiple cloud-based services from different vendors is time consuming, complex, and costly, requiring tremendous manual effort often with limited vendor support. That's why we developed our CloudBlades API platform, to simplify the integration of 3rd party services into Prisma Access. The initial integrations fully supported are Remote Browser Isolation (RBI) services from leading vendors with more integrations planned for future releases.
5. Digital experience matters. With hybrid users now consuming apps and resources that are potentially anywhere, ensuring they receive a consistent and optimal experience is more difficult than ever. Digital experience defines success today, yet IT teams struggle gaining sufficient network and security visibility to maximize workforce productivity. What's more, responding to problems requires tremendous manual effort to troubleshoot and remediate, increasing support effort and cost.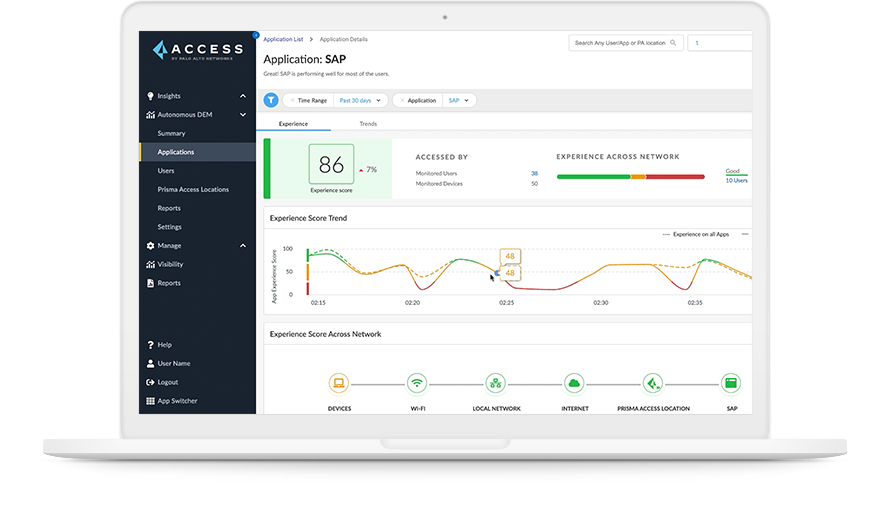 Keep your users from circumventing policies without forcing them into cumbersome and disjointed workflows with Prisma Access Autonomous Digital Experience Management (ADEM). The ADEM capabilities of Prisma Access provides native end-to-end visibility and insights across your entire secure access service edge (SASE) infrastructure while providing the ability to drive autonomous remediation of digital experience problems when they arise.
With Autonomous DEM, you gain segment-wise insights across the entire service delivery path, with real and synthetic traffic analysis, to keep your hybrid workforce productive and secure.
Prisma Access enables organizations to securely connect all users to the applications they need, regardless of where they're accessing them from, while reducing risk. It provides a single platform to secure your digital business, made up of best-in-class security capabilities while optimizing user experiences.
Give it a test drive today and see for yourself how Prisma Access can modernize your network security infrastructure to accommodate the evolving needs of your hybrid workforce.