Remote work has proven to be a successful model that keeps businesses running and employees engaged. However, this new model introduced new challenges and headaches for IT organizations. Find out how digital experience management technologies make it easier for IT teams to ensure great application experience for users without compromising security, no matter where employees connect from.
The COVID-19 pandemic completely disrupted and forced organizations to reimagine the way many employees work. IT organizations had to abruptly deal with tens of thousands of employees working remotely with each employee's home office effectively becoming an extension of the corporate office. All this happened at unprecedented speed and scale, with one customer telling me that they had to contend with at least 50,000 branch locations overnight.
Businesses had very little time to react and support this sudden change, creating an IT help desk support nightmare. Seemingly overnight, organizations had to redefine work-from-home policies, implement new digital strategies, invest in new infrastructure to ensure workforce productivity wasn't disrupted, all while preventing security compromises. Industries that are heavily dependent on employees coming physically into the office—including retail, healthcare, and hospitality—had to rapidly accelerate their digital adoption and transformation initiatives, to ensure business continuity and stay competitive.
Adapting to a hybrid workforce
Over a year and a half in, it's become clear that remote work is here to stay, forcing organizations to take a hard look at their long term capacity to support this new, hybrid workforce norm.
As companies think through their long-term IT and security strategies, they need to consider the following questions:
How do we ensure high availability and great user experience?

Application availability. Are all applications, irrespective of where they are hosted, accessible and available to the remote users? Can employees access privately hosted sales platforms from home?
Application experience. Do users have a good quality experience while accessing these applications? How is the quality of a Zoom meeting when connecting from their home WiFi networks?

How can we provide "always-on" security?

Least privileged, zero trust access control. Are you providing least privileged access to only the resources a user needs to do their job?
Identity and context aware authentication. How does authentication adapt as a user's location and connection method changes? Does this add too many hurdles for users?
Enforce consistent security. Does access change depending on whether the user is at home or in the office? How do your policies and security controls affect the availability of services for users? Do your controls improve security but negatively impact user experience?
Embracing the "Work From Anywhere" Model
As we slowly come out of the pandemic, it's clear that the future of work is a hybrid one. In different parts of the world, and across various industries and job types, we see employees going back to the office in a phased manner. Depending on the nature of their work, local regulations, culture, and industry, organizations are beginning to adopt different hybrid workforce models. Some roles will require the workforce to come in to work every day, while other roles can be performed fully remotely. Many organizations will stagger between working a few days from home and having to come into the office.
In this new hybrid world, the focus will shift from addressing only the needs of remote workers connecting from home, to creating and implementing a broader IT strategy that enables the entire organization to work from anywhere. Businesses will need to relook at how and where applications are hosted, ensure the entire workforce has seamless connectivity and experience, and at the same time implement consistent security policies no matter where users are connecting from.
As employees operate in this hybrid mode, oscillating between campus and off-campus networks, IT will be challenged with inconsistent visibility and control, which in turn affects their ability to support and resolve user issues. On one end of the spectrum, IT traditionally has deeper visibility and control of users working within the office, allowing quick issue diagnosis and remediation. The same cannot be said for remote users connecting from their home WiFi network or a coffee shop. And as organizations aim to implement zero trust, the notion of trusted and untrusted networks no longer exists. High efficacy security controls need to be uniformly applied regardless of where a user accesses data.
Users expect consistent and good quality experiences no matter where they are. They don't want to have to switch off their VPN, re-authenticate and login to a separate interface with a separate password each time they come into a corporate office. Put simply, users want their technology to work, and they don't care what happens in the backend as long as they can reliably and consistently access the resources they need. This means IT needs a higher level of visibility when users work from home, to ensure a consistent experience regardless of location.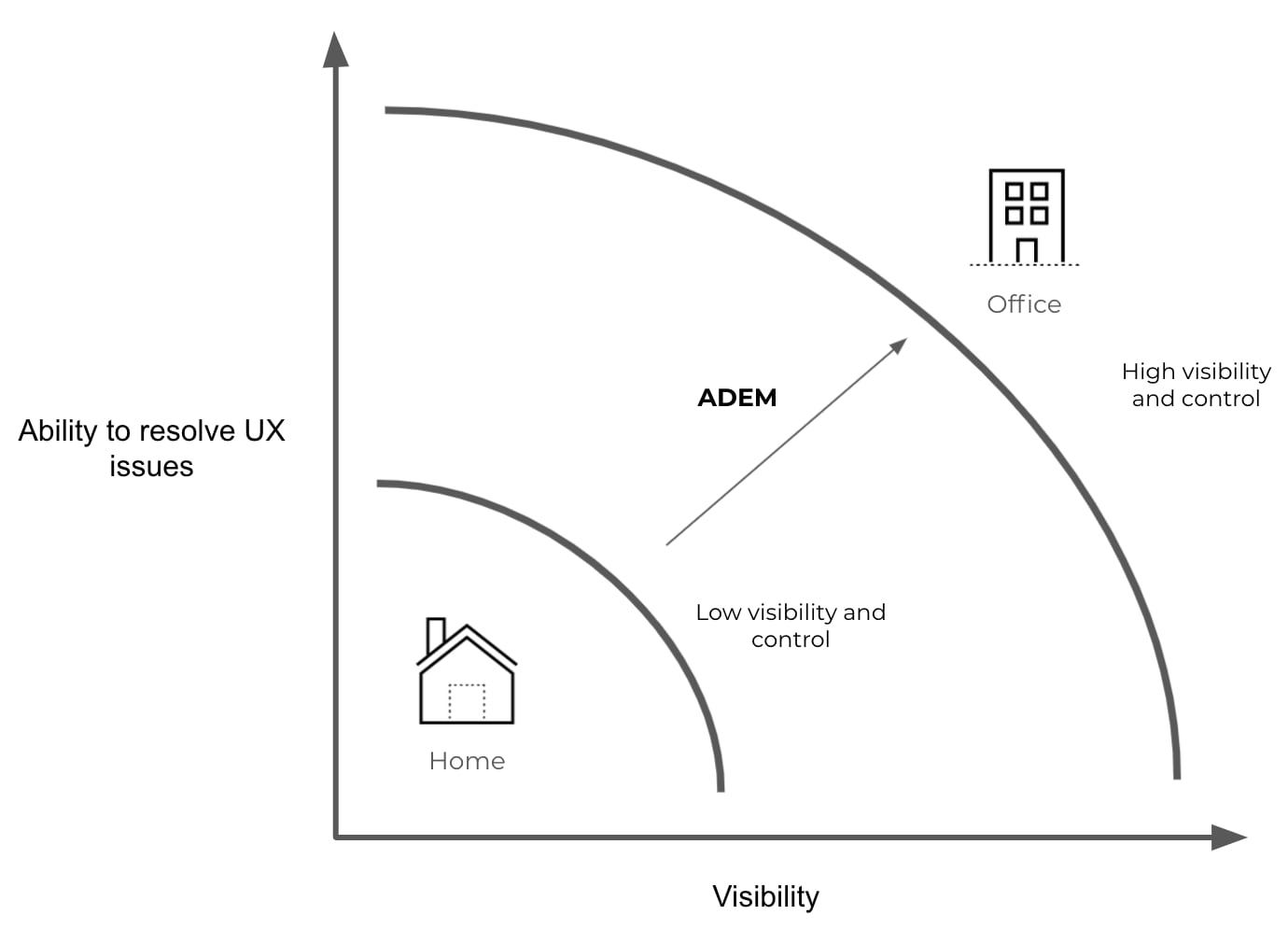 The power and promise of autonomous digital experience management
This is where Palo Alto Networks' Autonomous Digital Experience Management (ADEM) solution comes in. DEM, or digital experience monitoring, augments traditional network and application monitoring tools and focuses on monitoring the experience of the users.
ADEM is designed from the ground up as a native component of Prisma Access to monitor and manage the experience of users. IT and security teams have the advantage of centrally implementing and monitoring remote access security policies, as well as user experience through a single pane of glass to enable their hybrid workforces. And because ADEM is seamlessly integrated with Prisma Access, no additional agents are required and no additional burden is placed on the user.
ADEM monitors the experience of all applications irrespective of where they are hosted. It also continuously monitors the experience of every user as they shift between working from home, connected over a non-trusted network, to working from the office over a trusted corporate campus network. ADEM provides deep insights and visibility into every part of the service delivery chain impacting user experience, including device issues like incompatible version, high memory & CPU utilization, home WiFi and network issues, Internet Path issues showing hop by hop performance visibility, overlay VPN tunnel issues, and issues with the applications itself, allowing IT to quickly isolate problem domain and resolve issues.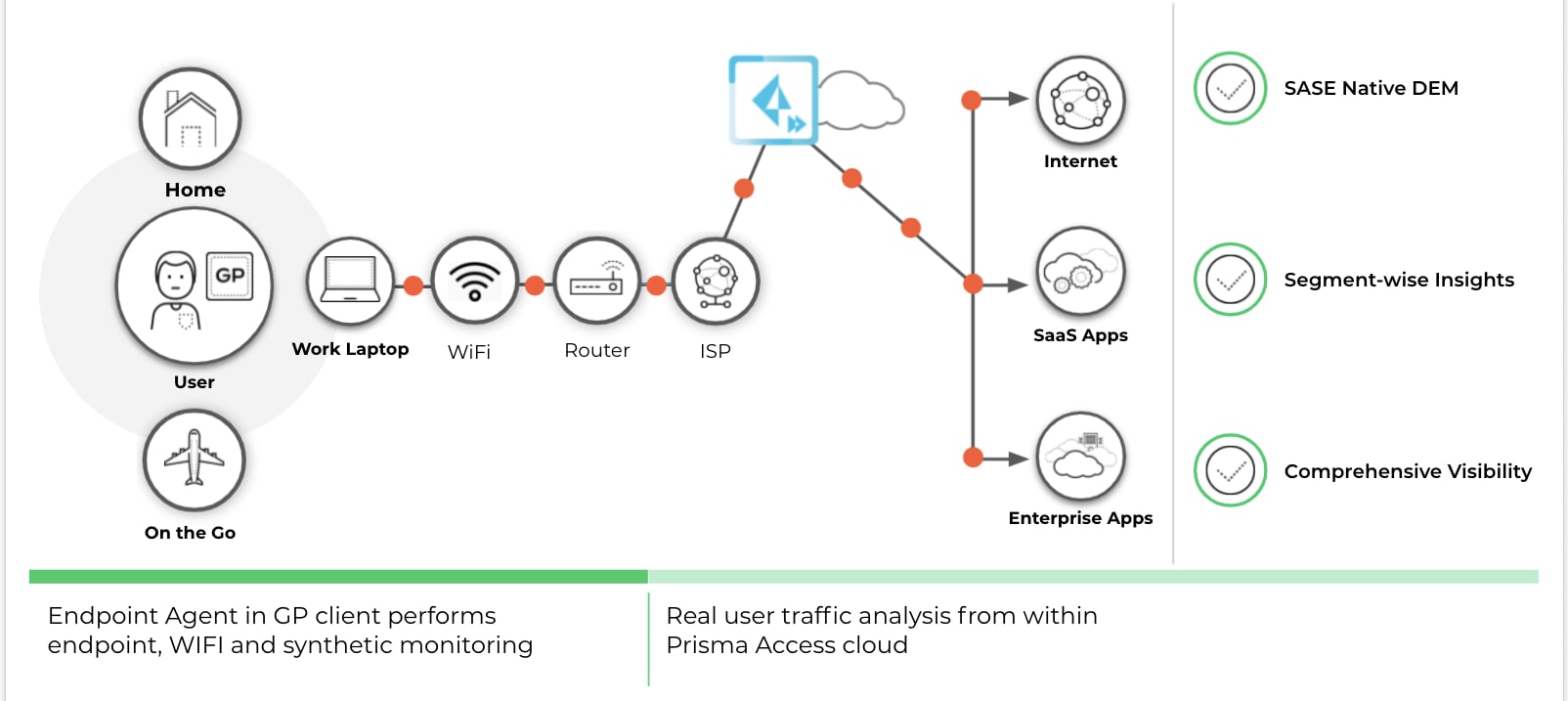 In a recent webinar, Jason Georgi and I take an in depth look at these challenges and more, with a demonstration of Prisma Access ADEM in action. See for yourself how our powerful ADEM capabilities can help you transform your networking and security to ensure an exceptional user experience for your secure hybrid workforce.