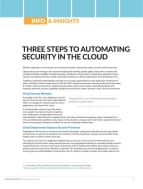 A three-phased approach for maximum benefit
Security is a shared responsibility in today's cloud environments. This means that you, not the vendor, are responsible for protecting your apps and data in the cloud. With the ability to automatically embed advanced security capabilities in the cloud environment, security teams can eliminate the bottlenecks development teams often encounter, enabling you to protect your apps and data.

Through our phased approach to automation, your organization can fulfill its role in the Shared Responsibility Model and improve its overall security posture in the cloud.