With the exponential growth in the consumption of mobile applications, emergence of new data services and rapid migration to cloud solutions, mobile network operators (MNOs), managed security service providers, (MSSPs) and cloud service providers face unprecedented demand for networks that can efficiently deliver these capabilities to consumers and enterprises.
For MNOs, threats that exploit the application layer and target a wide variety of mobile device endpoints create the need for cost-effective, comprehensive and prevention-oriented security that ensures minimal impact to the customer experience. For MSSPs, as their enterprise customers rapidly migrate to cloud services, they must provide a broad range of managed security services that are scalable, cost efficient and easy to configure and consume.
Thanks to PAN-OS 8.0, service providers can directly address these requirements.
PAN-OS 8.0 includes several new and upgraded VM-Series models to support multiple use case scenarios, including virtualized CPE (vCPE), virtualized core networks, virtualized data centers, NFV deployments and others. The expanded line provides increased performance, scalability, and flexibility to dynamically provision on-demand security services. Capabilities can be deployed in near real-time, and scale up and down to meet varying customer or network requirements.
These enhancements, which we announced earlier this month, extend performance (throughput) at both the low end and high end of the Palo Alto Networks portfolio. Specifically:
Service providers can deliver a consistent security feature set and drive new revenue and growth opportunities across a broader range of use cases and deployment scenarios.
MSSPs can leverage Palo Alto Networks Next-Generation Security Platform with new VM-Series options to reach new markets and deliver differentiated and profitable security services to enterprise customers.
MNOs can easily integrate the Palo Alto Networks platform into their NFV and SDN migration plans and more profitably meet demand for new mobile services with more efficient networks.
PAN-OS 8.0 also includes an expanded set of software features that extend application-layer visibility to include multiple mobile network peering points, deployable with both physical appliances and VM-Series solutions. Visibility across all potential mobile network attack surfaces provides MNOs the ability to prevent a greater number of potential attacks and increases their ability to respond immediately and automatically as new threats emerge. These improved capabilities can prevent degradation in the quality of customer experience, network performance challenges and potential revenue impact.
Learn More
Visit Security for Service Providers to learn more about what's new in PAN-OS 8.0 for service providers.
Connect with us at Mobile World Congress 2017 February 27 – March 2 in Barcelona, Spain: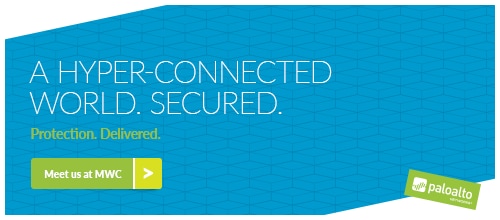 Request a meeting with our mobile network specialists
Reserve your seat at one of our presentations at the NEXTech Theatre F (Hall 8)
Visit our kiosk in the HPE OpenNFV Partner Showcase (Hall 3, 3E11)
Additional PAN-OS 8.0 resources for service providers: