Cloud Security
SD-WAN vs MPLS
This article will discuss how software-defined wide area networking (SD-WAN) differs from multiprotocol label switching (MPLS), providing pros and cons for each to help you when evaluating different solutions. First, let's define what each one does.
Multiprotocol label switching technology is a routing technique that operates between Layers 2 and 3. MPLS is sometimes considered Layer 2.5. It uses packet-forwarding technology and labels to make data-forwarding decisions. The label is imposed between the Layer 2 (data link) and Layer 3 (network) headers.
A software-defined wide area network (SD-WAN) virtualizes WAN architecture and the network functions to securely connect branches to data centers and the cloud by leveraging one or more WAN carriers like MPLS, broadband and 5G/LTE. As a result, SD-WAN solutions are designed to support network functions from Layer 3 to Layer 7 to provide a consolidated solution.
Pros & Cons of MPLS
MPLS is well suited for traditional architecture with dedicated WAN connections to a centralized data center, providing application access and security inspection. MPLS provides a reliable WAN connection that comes with a carrier-guaranteed SLA and QoS enforcements that ensure application traffic is prioritized based on these SLAs.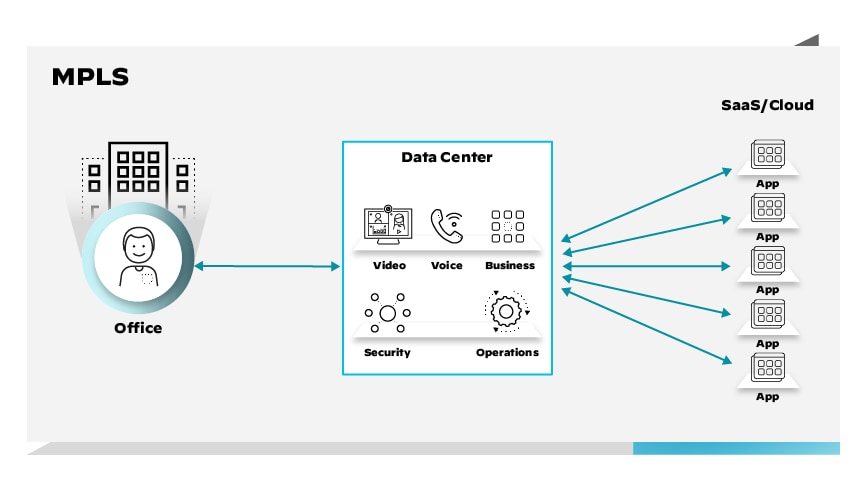 MPLS networks offer a dedicated, costly WAN that connects to a centralized data center, thereby introducing delays to cloud and SaaS application access, resulting in poor user experience. It leverages separate routing and security appliances to reliably connect and secure application access that can significantly increase operational cost and complexity.
Pros & Cons of SD-WAN
SD-WAN decentralizes WAN networks by leveraging inexpensive broadband and direct internet connections, allowing users to connect to applications hosted on the data centers or the cloud or SaaS services. SD-WAN enables traffic intelligence based on application service-level agreements (SLAs) to deliver exceptional end-user experience and improve application resiliency. SD-WAN offers centralized management that automates tedious network operations while providing improved visibility into network and application performance.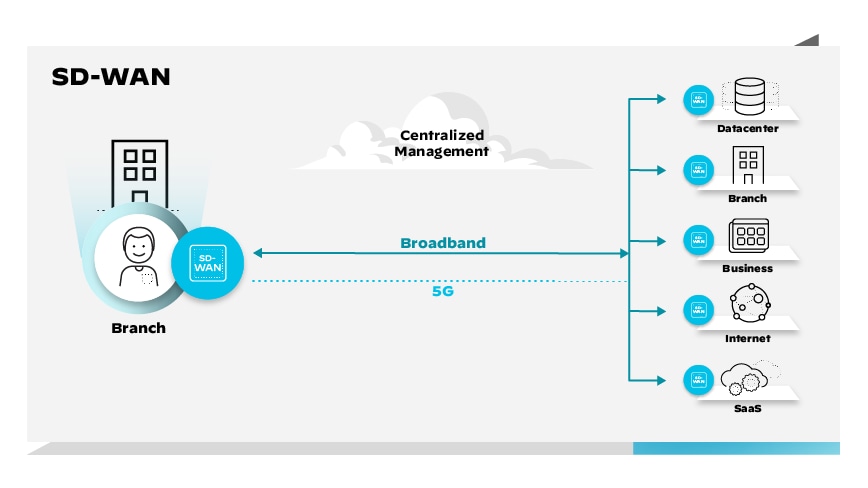 Although SD-WAN enables digital transformation and cloud adoption, in some cases, it requires highly skilled IT staff to migrate traditional architectures, configure effective business policies and troubleshoot issues, resulting in additional cost and complexity.
Secure SD-WAN Offers Better Protection Than MPLS
SD-WAN offers the flexibility of securing applications at the branch, at the data center or in the cloud. SD-WAN appliances often have built-in Layer 3 to Layer 7 security capabilities that can secure application traffic both intra-branch and inter-branch. Additionally, SD-WAN enables encrypted overlay tunnels to data centers or the cloud, protecting data end to end. The simplicity of managing both network and security policies from a single management console further reduces operational complexity while providing granular visibility into both branch performance and the security threat landscape.
On the contrary, MPLS networks require security inspection and threat prevention across all application traffic at a data center, which only works well when access is performed through this centralized location. When localized inspection is required within a branch for intra-branch or inter-branch traffic, additional security solutions need to be installed at the branch; otherwise, there is a significant chance of creating a serious security risk.
SD-WAN Delivers Greater Performance Than MPLS
SD-WAN provides a carrier-independent WAN connectivity that allows transport services like MPLS, broadband and 5G/LTE to be seamlessly added to a branch network. This provides WAN redundancy and failover that remediates network outages and performance degradation proactively, resulting in exceptional end user experience for all applications. The business policies that intelligently steer application traffic enable direct access to cloud and SaaS applications, reducing any delays and further improving performance. Additionally, the flexibility to replace MPLS with inexpensive transports like broadband and 5G provides more bandwidth availability that delivers a better user experience.
MPLS offers dedicated links with limited bandwidth, which works well for accessing private or business-critical applications hosted on centralized data centers. However, this fails to meet the traffic demands of today's distributed cloud and SaaS applications. The lack of bandwidth, additional WAN links to provide redundancy or failover, and data center backhauled application access leads to poor performance and degraded user experience.
SD-WAN vs. MPLS Cost Comparison and ROI
SD-WAN solutions provide built-in capabilities that include routing, traffic engineering (QoS), security and centralized management. SD-WAN is also extending its capabilities within the branch with switching, wireless and 5G capabilities delivered on the same appliance. This integrated solution at the edge eliminates multiple point products and disparate management solutions, reducing cost significantly. Additionally, the granular visibility, automated provisioning and configuration, and artificial intelligence for IT operations (AIOps) capabilities reduce the time to troubleshoot and resolve, resulting in better ROI.
MPLS networks can become highly expensive based on the bandwidth requirements, speed and performance SLAs. The dedicated WAN links create a single point of failure while adding redundant MPLS connections to improve availability and can lead to significant cost and complexity. The centralized architecture introduces delays to cloud and SaaS application access, resulting in poor user experience.
SD-WAN and SASE
Businesses are increasingly adopting a secure access service edge (SASE), which converges security and networking capabilities into a single cloud-delivered solution to enable today's hybrid workforce and application needs. SD-WAN, as the networking construct of a SASE solution, provides a seamless means to modernize and consolidate security into a single service by simplifying migration to a SASE solution.