Cloud Security
Branch Network Security | Securing Branch Networks with SD-WAN
Branch Network | What Is a Branch Network?
Many organizations have multiple offices spread out around the country or the globe. These branch offices use a "branch network" or "branch security network" of some sort that encompasses the traffic to and from those offices to connect employees to corporate resources. Both small and large organizations use branch networking for their remote or retail sites, data centers, and branch offices to provide a secure way for their employees to work productively from their locations. Organizations can struggle with branch network management, however, if they don't have the right solution in place.
Branch Office
What Is a Branch Office?
Branch offices are smaller entities within a larger organization where the same business is conducted. For example, a bank has a corporate or headquarters location that does not serve customers directly – all face-to-face customer service occurs at branch offices spread throughout the city, state, country or world. Organizations in any industry use branch offices to generate revenue, provide alternative locations for employees to work from, focus on specific functions within the company and more.
What Is Branch Office Network Security?
Branch offices are a necessity for most organizations, but they require access to corporate data and services as well as protection from emerging threats. Branch office network security represents the means to secure internet traffic branch to branch as well as between branches and data centers, headquarters, or remote employees. Keeping data secure in transit and ensuring proper access control are critical to protecting an organization as a whole.
Branch Office Network Security Requirements
To protect company data, apps, services and employees, organizations need to implement these branch office network security requirements:
Establish complete visibility
Protect corporate resources
Secure access to internet and cloud apps
Prevent zero-day threats
Prevent user circumvention
The Challenges of Branch Networking
Organizations face a handful of challenges when it comes to securing branch offices. First, bandwidth requirements are crucial to maintain productivity and collaboration for employees wherever they are located. Keeping network speeds up and minimizing bandwidth interruptions – not to mention accounting for the growing needs and complexity of cloud applications and countless devices connecting to the network – can quickly become costly.
The rapid adoption of cloud applications has increased the need for a constant, consistent internet connection. Popular software-as-a-service (SaaS) applications, such as Microsoft 365, Dropbox, Salesforce, Google Workspace and Slack, allow for easier collaboration between employees working in different locations while maintaining access control. Traditional technologies like wide area networks (WAN) and multiprotocol label switching (MPLS) can't keep up with the evolving network landscape or the addition of new services and applications that require more bandwidth. The practice of sending internet traffic back to headquarters to be filtered and inspected can't realistically keep up with user demands and the types of data being accessed and sent.
Having multiple sites that IT teams must keep secure is becoming difficult as organizations add more services and apps. Traditionally, firewalls have been placed on-premises at each location, requiring IT to be physically present for implementation, setup, maintenance and hardware troubleshooting. The more sites, the more hardware requirements, and the greater the number of granular rules and policies that must be created. Most organizations do not have the IT resources to deal with these growing needs at branch offices.
Lastly, with the rise of devices and applications on the network, the risk of hackers and threats finding vulnerabilities has increased. Hackers know that the network edge is generally the weakest point in an organization and will exploit that to gain access into internal networks.
Branch Office Security Solutions
While there are various branch office security solutions for organizations to choose from, software-defined wide area networking (SD-WAN) is a popular choice. A next-generation SD-WAN solution allows for organizations to enable the cloud-delivered branch.
SD-WAN for Branch Network Security (SD-Branch)
Securing branch offices is not as simple as selecting a product and turning it on. Many organizations have turned to SD-WAN to connect branch offices or data centers to the corporate or HQ network. SD-WAN takes a distinct approach, managing the WAN through cloud-based management to help companies reduce costs compared to MPLS, improve performance, and optimize SaaS and cloud applications for users.
Next-generation SD-WAN uses machine learning (ML) and automation to eliminate network trouble tickets and improve the end user experience by enabling an increase in WAN bandwidth at a lower cost than legacy SD-WAN solutions. Next-gen SD-WAN also offers the advantages of being application-defined, autonomous, and cloud-delivered.
However, neither legacy nor next-gen SD-WAN solutions solve the entire problem – only the connectivity issue. Lack of security features within SD-WAN requires organizations to use other tools and platforms, such as intrusion prevention, web filtering and SSL inspection, to protect their networks.
SASE for Branch Network Security
Secure access service edge (SASE), a relatively new security concept, is the convergence of WAN/SD-WAN and network security services like CASB, FWaaS and Zero Trust into a single, cloud-delivered service model. A SASE solution offers a consistent way to deliver and manage security at branch offices while also providing a uniform way to securely connect users to applications.
By using a cloud-based framework, organizations can save time and money without having to install and maintain security appliances at every single branch. Policy management and access control are difficult with offices spread out around the globe. With a cloud-based infrastructure, branch offices forward traffic into the cloud service, where security policy is centrally enforced. This eliminates the need for IT to physically go to sites to manually update appliances or mitigate issues.
Palo Alto Networks SD-WAN
Prisma® SD-WAN is the industry's first next-generation SD-WAN solution that simplifies your WAN and enables cloud-delivered branch networking and security. Prisma SD-WAN helps organizations increase their bandwidth by 10x, reduce network trouble tickets by 99% and deliver up to 243% ROI.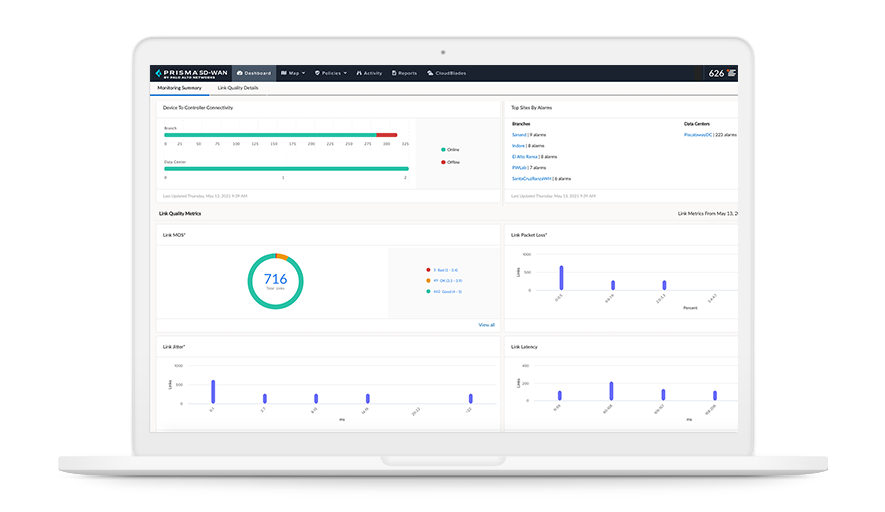 Prisma SD-WAN dashboard
Prisma SD-WAN enables all branch services, including networking, security and voice services, to be delivered from the cloud. A secure SD-WAN connection gives you peace of mind that your branch locations are protected from threats and provides optimal performance for end users.
Palo Alto Networks SASE
Prisma Access provides complete cloud-delivered security to prevent cyberattacks and consistently protect all traffic – on all ports and from all applications – for branch offices and remote employees. Together with Prisma SD-WAN, it constitutes the industry's most complete SASE solution allowing branches to enable networking and security services delivered from the cloud.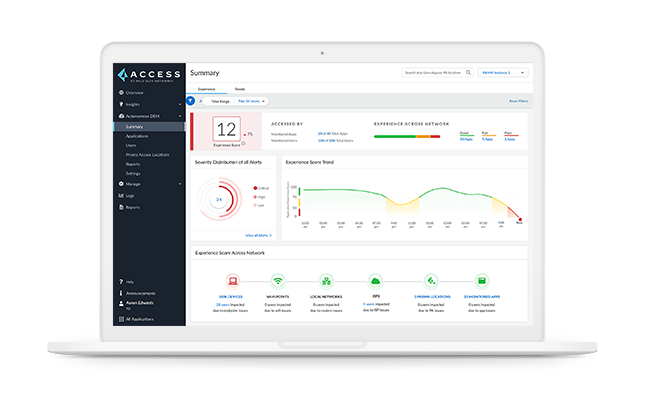 Prisma Access dashboard
Prisma Access and Prisma SD-WAN are seamlessly integrated to provide broad security and connectivity for your remote users and branch locations. SASE offers many benefits, including:
Simplified management and operations
Infinite scale and performance
Exceptional user experience
Branch network security doesn't have to be hard. Learn more about providing both secure and consistent connectivity to your branch offices with Prisma SD-WAN.