Endpoint Protection
What Is Endpoint Protection?
Endpoint protection refers to the technology necessary to secure the many different types of endpoints across an organization, such as desktops, laptops, tablets and servers. The Internet of Things (IoT) has created an entire host of devices that could possibly be compromised, and protection on the endpoint must be in place to make sure these devices are secure. Endpoint protection is synonymous with endpoint security, and continues to evolve in order to provide the most advanced protection from malware and zero-day exploits by safeguarding end-user devices from viruses, ransomware, spyware, phishing and unauthorized access. Endpoint protection solutions include next-generation antivirus (NGAV), device control, disk encryption and host firewall.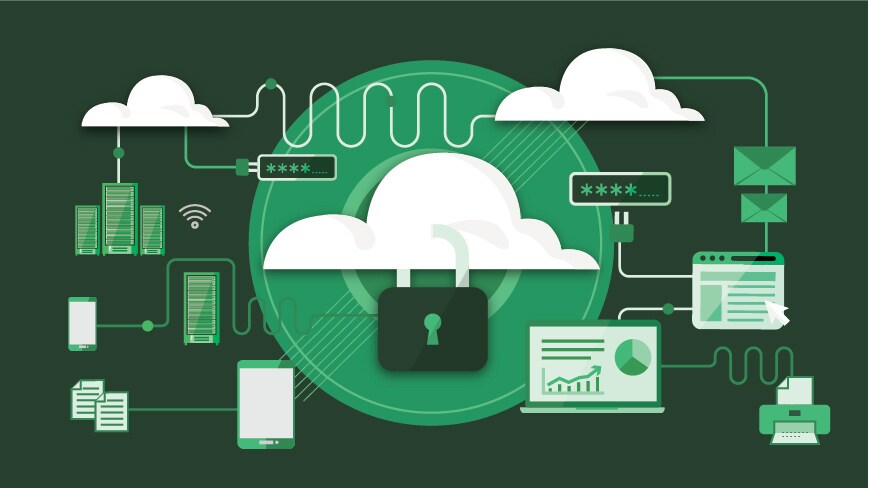 How Does Endpoint Protection work?
The fundamental intent of endpoint protection is to safeguard individual devices that are connected to a network by examining files as they enter. Endpoint security can be offered as on-premises or cloud-based solutions, with cloud being a more modern approach that is scalable, easier to integrate and provides faster performance.
The benefits of endpoint protection over traditional antivirus include:
Visibility and control across an organization: Traditional antivirus solutions are not monitored remotely by IT staff or security professionals, and with isolated/individual endpoints, investigating issues and potential threats is a tedious and time-consuming task.

Centralized administration: Endpoint protection solutions are managed from one central console, where administrators can install updates or policy changes to multiple endpoints all at once, or authenticate login attempts.

Better threat protection: Legacy endpoint antivirus software does a great job of blocking malware and other threats that are identifiable due to inclusion in a database of known threats (signature-based). However, endpoint protection solutions provide more robust prevention of threats, such as data loss, advanced malware techniques, ransomware and others.
Types of Endpoint Protection: EPP vs. EDR vs. XDR
Endpoint protection solutions are now commonly referred to as endpoint protection platforms (EPP), which are suites of cloud-based endpoint security solutions that provide more robust protection than individual endpoint security products like antivirus software. Legacy endpoint security is known for continuously scanning endpoints to identify malicious files, which can slow down performance. As cybersecurity threats become more sophisticated, antivirus solutions alone are not enough to stop advanced malware and ransomware techniques, which are no longer just signature-based and are therefore harder to detect. EPPs provide prevention and protection against cybersecurity threats like file-based or fileless malware, known and unknown threats, malicious scripts, and memory-based threats. Behavioral threat protection and AI-powered analysis through machine learning help to proactively identify, detect and stop emerging threats.
Endpoint protection platforms may also provide the ability to detect and block malicious activity, and investigate and remediate any incidents that evade protection controls. This is known as endpoint detection and response (EDR). EDR continuously monitors end-user devices to detect and respond to cyberthreats like ransomware and malware. The endpoint telemetry collected by EDR enables triage and investigation of detected threats via processes that are highly automated, enabling SOC teams to quickly identify and respond to threats.
The next evolution of endpoint protection is known as extended detection and response (XDR). XDR is a newer approach to endpoint security and offers improved protection, detection and response by integrating not just endpoint data but data from any source, such as network, cloud data or third-party data. All data is then analyzed from one console, instead of disparate systems, in order to better investigate incidents and lift some of the burden from SOC operations. The desired outcome for an effective XDR solution is to not only provide robust endpoint protection but also enable a more simplified approach to incident response and to build targeted, high-efficacy detections. Consolidation of these solutions helps to better manage risk and improve security operations productivity.
The Evolution of Endpoint Protection
1980s: Antivirus
Endpoint security has evolved beyond the basic capabilities provided by antivirus tools back in the 1980s, which scanned endpoint files for malware.
2000s: Next-Generation Antivirus (NGAV)
To combat new forms of malware, machine learning and behavioral threat protection was introduced to create more effective next-gen antivirus in the early 2000s.
2010s: Endpoint Protection Platform (EPP)
EPP combines antivirus or next-gen antivirus, personal firewall, encryption, USB device control, vulnerability assessment and more to deliver a full platform to stop malware from penetrating endpoints.
2015: Endpoint Detection and Response (EDR)
Gartner Analyst Anton Chuvakin coined the term "endpoint threat detection and response" to describe "the tools primarily focused on detecting and investigating suspicious activities" on endpoints in 2013. This name had evolved to endpoint detection and response by 2015.
2021: Extended Detection and Response (XDR)
While the concept of XDR was first introduced in 2019 by Palo Alto Networks, XDR is considered an emerging technology that is quickly gaining traction in the endpoint security market. While most technology providers now offer endpoint security offerings that combine EPP/EDR capabilities, most do not offer a true XDR solution that combines many data sources into one platform for analysis and remediation.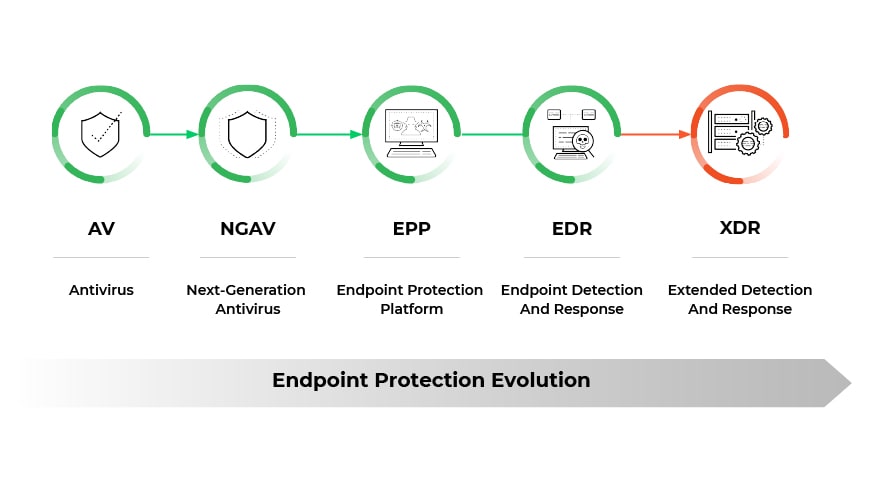 Future-Proof Endpoint Protection with Cortex XDR
Nearly every attack relies on compromising an endpoint to succeed, and although most organizations have deployed some type of endpoint protection, infections are still common. Cortex XDR provides everything you need to safeguard your endpoints by natively integrating network, endpoint and cloud data to stop sophisticated attacks. Unlike traditional endpoint security or network security solutions, Cortex XDR combines industry-best AI and behavior-based protection to block advanced malware, exploits and fileless attacks, revealing the root cause to speed up investigations. With the highest combined detection and protection scores in the MITRE ATT&CK® Round 3 evaluation, Cortex XDR lets you rest easy knowing your data is safe.